Print Friendly Version
Check your settings when you are happy with your print preview press the print icon below.
Show Obituaries Show Guestbook Show Photos QR Code

Print
October 29, 1928 - February 5, 2022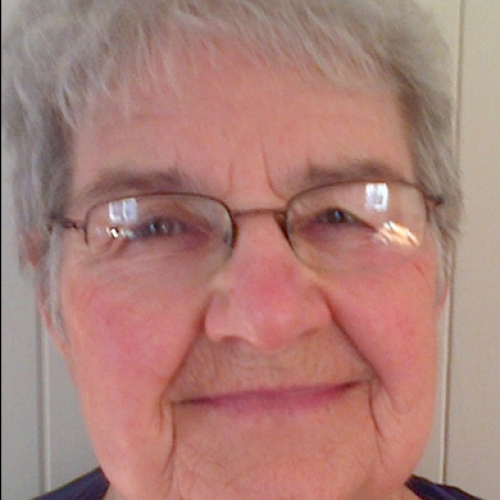 Share your Memorial with Family & Friends
YVONNE BERKES
October 29, 1928 – February 5, 2022
In loving memory of our dear Yvonne Berkes of Langford, BC, who at the age of 93, passed, ready and gently, into the arms of God while she slept at Victoria General Hospital.
Yvonne was born in St. Boniface, Manitoba, the second child of Henry and Leona Filteau. She and her older brother Edward (Eddy) welcomed a sister, Irene, a few years later. The family were farmers in southeast Saskatchewan located in between Wawota and Kennedy.
Being close in age, Yvonne and her siblings played well together. Sometimes they would role play–mostly religious ceremonies, as that was what they knew best. One such re-enactment was in full production when their parents came up the driveway in the horse-drawn buggy full of groceries and supplies. They could see their children walking up the hill—Eddy in cut up pants and shirtless, bearing a cross made from tree branches, followed by Yvonne and Irene dressed in their mother's dresses (one being a wedding suit) cut short to accommodate their small frames, heads down and hands folded in prayer. The children were re-enacting the Way to the Crucifixion. Their parents were grateful that they arrived home in time to stop the procession before it reached the top of the hill.
In between farm chores, Yvonne learned to mend, sew, knit, crochet and embroider, and became very accomplished in all of them. In later years, she would sew clothes for herself and for her children, knitted scarves, sweaters and slippers, and embellished cotton flour bags with crochet and embroidery to make pretty pillow cases.
In 1944, at age 16, Yvonne got her first job at the Fairlight Hotel in Saskatchewan, as a waitress and housekeeper. Very unusual for a female teenager to leave home to make her own way in life. But, this strong-charactered person always stuck to her convictions, which, in this case, kept herself from having to go back to the residential Catholic convent where she was being educated.
Then, in 1946, Yvonne married local farmer and businessman, John Berkes from Dumas, Saskatchewan. The newly weds wasted no time having children–four within five years—Irene, John Jr., Carron and Keith. They worked hard on their farm raising animals and growing grain for personal use and for market. How Yvonne managed raising four young children, running the household and helping John with farm duties, who knows–but remarkably, she did.
Another remarkable accomplishment, Yvonne was fluent in three languages—French being her first language. She learned English when she went to school, and lastly, Hungarian which enabled her to communicate with her in-laws.
Yvonne was a life-long devoted Catholic who sang in the church choir, served the Catholic community through her membership of the Catholic Women's League, cooked for fowl suppers and bake sales. She continued attending mass until the COVID shut things down, then she attended masses on TV.
There was always something to do on the farm and everyone worked hard: to mention a few: feeding the animals, chickens and turkeys, gathering eggs, hauling wood for the stove, milking cows and separating the cream for market, feeding skim milk to the weaned calves, churning butter, hauling drinking water to the house, and managing a large vegetable garden, enough to feed the family of six through the winter. Oh yes, she would prepare meals, pack up the children and deliver meals to John in whatever field he was working. As the children grew, they were given chores according to their abilities.
In her younger years, Yvonne enjoyed Highland dancing. Her love for dancing and singing continued, especially when John, his brothers and a couple of friends played at local schools and halls, and at family gatherings. During the winter months, when there were fewer chores, she taught herself to play the accordion, enjoyed jigsaw puzzles and curling.
When their children were all grown and away from home, John and Yvonne retired from farming and sold the farm. Farm auctions were always a big deal in the community. People came from far and wide to see what bargains they could find. Yvonne helped John, John Jr. and Keith to organize a huge farm auction of tractors and machinery, tools and equipment, furniture, antiques, and various miscellany.
Yvonne and John then moved to Whitewood and became part of the business community when they bought the laundromat and car wash. John ran the business while Yvonne, who loved helping people, worked at the Whitewood Co-op general store. One of her main duties was communicating with various suppliers to buying the items that were being sold at the store.
Yvonne always busied herself. Seldom did she sit to watch TV. When she did, she would promptly fall asleep. An entrepreneurial spirit, she sold Avon, Nutri-metrics (environmentally friendly cosmetics and household products), and Usana (pharmaceutical-grade nutritional supplements). She was a cook at the Kenosee Lake Chalet in Saskatchewan, cut hair for family and neighbours, and baked the "tallest" angel food cakes and was happy to fill orders from the community.
When John and Yvonne were honeymooning in Osoyoos, BC, they vowed to move there some day. They moved to BC and settled in Langford, joining Irene and her family and John Jr. and his wife who lived in Colwood. Keith and then Carron would join them later. During this time, Yvonne and John learned how to fish in the ocean rather than a small prairie lake, putting down crab traps and discovered clamming and oyster shucking.
After John's death, Yvonne married George. They both loved travelling, and for years camped up and down the Island with friends, teaching George fishing in the ocean, crabbing and oyster shucking, and enjoying life. For years the "troupe" also travelled together camping throughout the USA and Mexico. One of the highlights for Yvonne was going to the Grand Ole Opry. After that, Yvonne and George became Canadian "snow birds" spending many winters in Arizona.
When they stopped going South for the winter, Irene and Carron began going to Yvonne and George's on Friday evenings so that they would have something to look forward to. Soon, other family members caught on to what was happening on Fridays and invited themselves over. Thus, Family Games Night
was born and continued until COVID shut it down to included only those in Yvonne's bubble.
Always a gracious host, Yvonne so loved it when family or friends would come to visit—during farm days or at any of the other homes including Arizona and Victoria. No one needed an invitation and drop ins, at anytime, were the best in her eyes because she enjoyed the element of surprise. She hosted Sunday Family Dinner for many years. The interesting thing was that no invitations were sent—the family just congregated and she always had enough food for everyone who showed up, and an extra plate to put on the table.
Another interest Yvonne had was food and cooking. Her homemade soups were delicious as was her homemade bread. Everyone loved Yvonne's chicken and dumplings and we looked forward to when the chickens grew to be fryers and ready for the pot. When relatives came for weekend visits, they too
enjoyed her yummy chicken and dumpling suppers.
She eagerly tried all ethnic foods given the opportunity and learned how to make some of them. When she became celiac (severely sensitive to gluten), before there were recipes available, she taught herself to prepare foods that were gluten free and tasted like "regular" food. We all laughed when even the sea gulls showed no interest in eating some of her first loaves of bread. In character, she persevered and before long her gluten-free baking met the "normal" taste challenge.
Yvonne will be lovingly remembered by her children Irene, Carron (Rob), and Keith (Anna); her grandchildren Cheryl and Todd (Angela); great-grandchildren Jorja and Jace; and many relatives and friends.
Yvonne is predeceased by husbands John (1978) and George (2012), and son John Jr. (2020), her parents Henry and Leona, sister Irene, and brother Edward.
A service will be held at 9am, Wed., Feb. 16, at Our Lady of the Rosary, Langford. Considering current social restrictions, email yvonneberkesfuneralservice@gmail.com for virtual attendance. In lieu of flowers, donations may be made to heartandstroke.ca.
Messages of condolence and memories for this courageous, strong, family-oriented and loving woman may be left at carefuneral.com. Many thanks to all who contributed to her care.
Consideration of a donation to heartandstroke.ca or to the charity of your choice in lieu of flowers.